Alulite-Premium Quality Aluminum Tub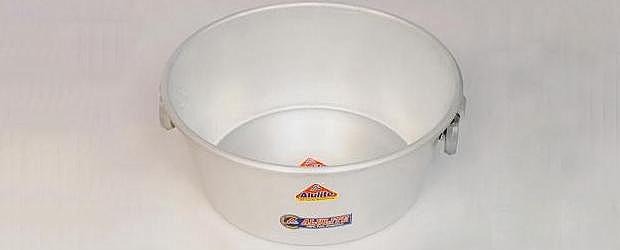 ALULITE specializes in manufacturing superior quality Aluminium Tub Premium (Naad). We are one of the leading Aluminium Naad (Premium) Suppliers in Eastern India.

Design and Usage - Aluminium Tub is a big Cooking Aluminum Pot with comparatively narrow base. The Aluminium Pots comes in varied sizes and weights. These Aluminum Pots are generally of heavy-weight. These Cooking Aluminium Pots are ideal for cooking large quantities of food.
We provide a wide range of Aluminium Naad (Premium). This Naad (Premium) comes in different sizes to meet your need. Also we provide customized Naad (Premium) as per Client specific requirement.
An overview of our Aluminum Premium Quality Tub(Naad) varieties
| Item Code | Size | Weight |
| --- | --- | --- |
| ALTB1 | 16 | 1.600 |
| ALTB2 | 18 | 1.900 |
| ALTB3 | 20 | 2.100 |
| ALTB4 | 22 | 2.500 |
| ALTB5 | 24 | 3.100 |
| ALTB6 | 26 | 4.000 |