Samrat- Aluminum Tub/Naad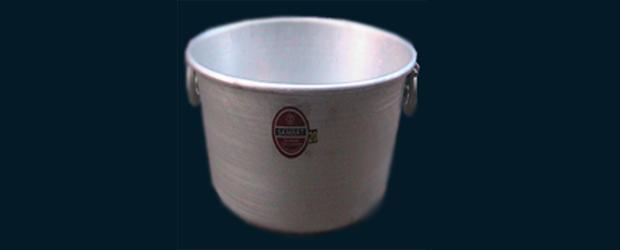 Gadia Aluminium supplies a wide range of Aluminum Tub/Naad. We are identified amongst the best Manufacturer and Supplier of Aluminum Tub/Naad.

Design and Usage - Naad is a big Cooking Aluminum Pot with comparatively narrow base. The Aluminum Pots comes in varied sizes and weights. These Aluminum Pots are generally of heavy-weight. These Cooking Aluminum Pots are ideal for cooking large quantities of food. We provide Aluminum Naad with handles on both sides. We provide customized Aluminum Tope's as per Client specific requirement.

Need a big Aluminum Cooking Pot - Naad - We provide it.

An overview of our Samrat Aluminum Tub/Naad varieties
| Item Code | Size | Weight | Handle Weight | Total Weight |
| --- | --- | --- | --- | --- |
| spn1 | 16 | 1.350 | 0.600 | 1.950 |
| spn2 | 18 | 1.700 | 0.600 | 2.300 |
| spn3 | 20 | 2.200 | 0.600 | 2.800 |
| spn4 | 22 | 2.500 | 0.600 | 3.100 |
| spn5 | 24 | 3.300 | 0.600 | 3.900 |
| spn6 | 26 | 4.400 | 0.600 | 5.000 |